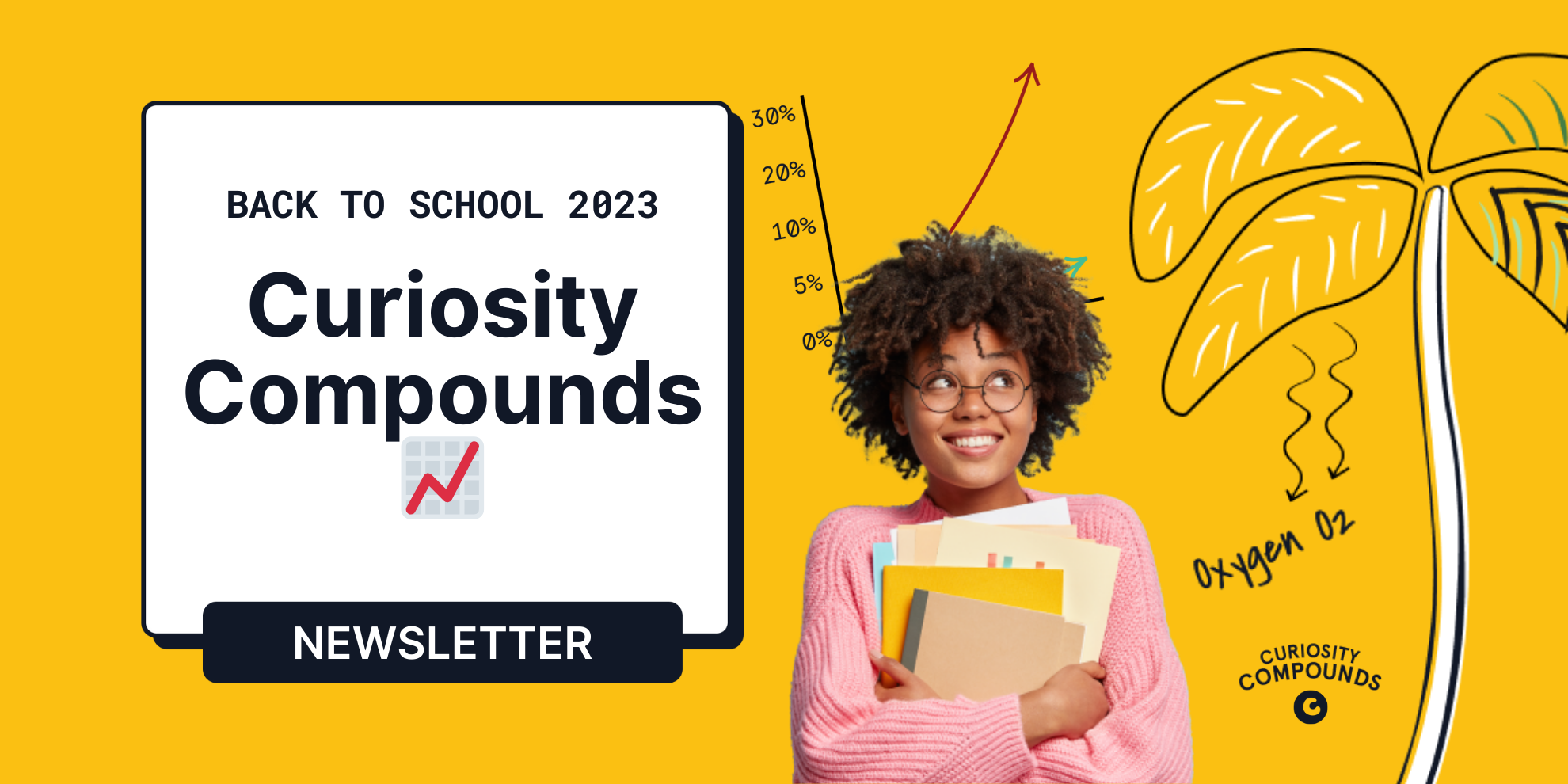 The more you

ask

, the more you

learn

.
As we charge full-steam ahead into our third back-to-school season, we're thinking about the power of tiny gains.
In James Clear's best-selling book Atomic Habits, he explains the cumulative effect of small efforts. Just a 1% improvement per day equals a 37x improvement over the course of a year. This was the inspiration behind our new campaign: Curiosity Compounds.
Rome wasn't built in a day, and you don't get significant results without consistent effort. Too many students are used to being given assignments that are due next week or next Tuesday. They don't know how to commit to something and see it through for the long haul. When kids aren't given opportunities to truly dig deep into something and stick with it, they miss out on this powerful truth: great things take time.
Whether it's reading more, beating your previous run time, acing that difficult test, or launching a passion project, you can't just snap your fingers and make it happen.
So this school year, we're on a mission, shouting from the rooftops: Curiosity Compounds!
(No, seriously. Audrey hasn't stopped talking about it since she came up with the idea😂)
We know that school doesn't always challenge or provide the type of support students need. We also know you're busy and, well, what kid wants to be lectured by mom or dad?!
That's where Curious Cardinals comes in. We want to give every student the tools and support they need to compound their curiosity into meaningful change. Acing that tough subject? Sure, we can help with that! But more than anything, we want to empower your student to dive deep into something and develop the tenacity to stick with it, no matter how hard it gets. Because when curiosity compounds, nothing is impossible.
---
Back-to-school Savings:
Book a free consultation call before September 1st and receive $100 off our standard 10 hour package!*
---

What to Expect from Curious Cardinals This School Year
While we are a fun, young company, we're also supported by some of the brightest and most experienced education minds in the biz (more to come on that later!). To demonstrate our commitment to continually improving every aspect of the Curious Cardinals experience, we've made a ton of changes, including:
✅ Creating an easier-to-use parent platform
✅ Improving our mentor onboarding and screening processes
✅ Clarifying 3 tracks students can embark upon to make the most of their mentorship
✅ Working with renowned education designers to create curriculum tools mentors use to track goals, report progress, and set priorities
Curious Cardinals is so much more than just academic support or just passion projects. Imagine seeing your student bursting with excitement to learn and lamenting when they have to end a session. Can you visualize your student smiling and eager to share what they're learning with you? How about newfound confidence and an eagerness to take agency over their own life?
That's not back-to-school stress playing tricks on you – it's the real magic of CC mentorship! Whatever type of support your student needs, we've got it covered.
---
Curious Cardinals has the

expertise

and

passion

to make this your student's

best school year yet

.
---
---
*This back-to-school discount was part of our newsletter and ended September 1st, 2023. Subscribe so you never miss out on discounts, inspiring stories, education thought pieces, parenting tips, and more!