Audrey's Best Tips for Beating Back to School Stress
CC Team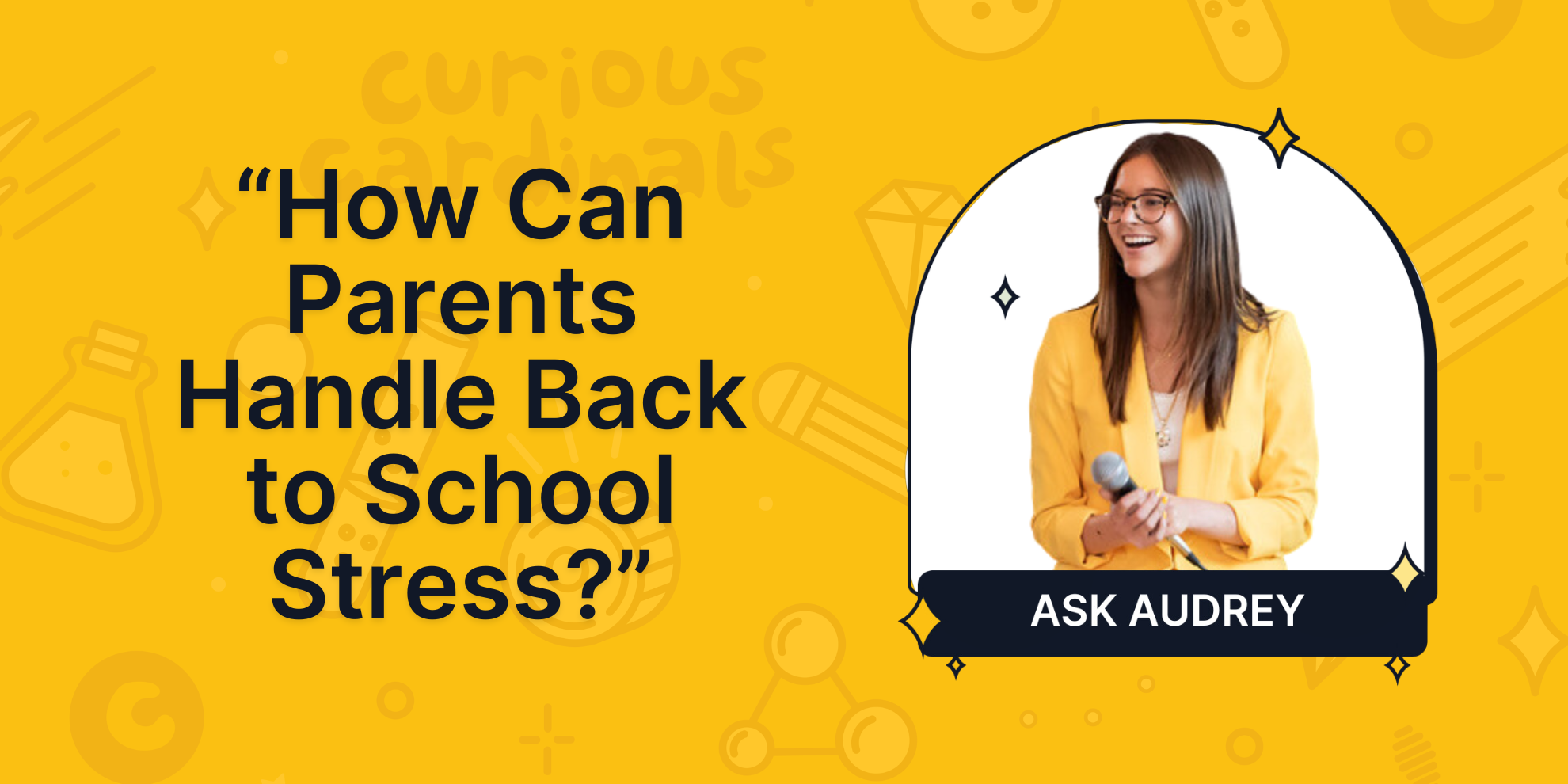 In this blog, Curious Cardinals CEO and co-founder Audrey Wisch will answer your burning back-to-school questions and hopefully ease some of your fears. We know how overwhelming this transition is, and we're here to provide support. Need tailored advice or suggestions for supporting your student? Get started here.
---
Q: I feel like we're on hold with so much uncertainty. We don't know the kids' schedules, what they'll need or what they'll struggle with. What do I do?
A: I know this uncertainty is so stressful. With school starting soon and the schedule on hold, it's natural to worry about potential struggles and feel like you don't have agency. But let's take this one step at a time. You do have some agency. Start by asking your child what classes they're excited for as well as what they may be feeling nervous about. That gives us clues about where they may need extra support. Consider pairing them with an academic mentor in any concerning subjects early on, to get ahead of any issues. That way you can assure them that you are putting in extra support in place just in case and starting with the support if they need it so they feel like they've got a better grasp on their academic year.
And if part of your concern comes from the fact that your kid doesn't know how to manage their own schedule so while the schedule is in flux you're responsible for them knowing what they're doing after school each day, look into an executive functioning mentor to help manage planning and organization. Your student can meet with a mentor on Sundays to go over their calendar for the week ahead and discuss what's on their schedule, how they can best prepare, how to prevent procrastination… hopefully removing you from the equation.
As the year unfolds, we'll continue tackling each challenge together. This period of transition is chaotic, but we can find our footing by focusing on your child's needs and lining up the right support along the way.
---
Q: I've got one kid in this school and another in that school. They have different needs, but both need attention. I feel like I'm being pulled in multiple directions. How do I give all my kids what they need?
A: Balancing multiple kids often at different schools with varying needs is so challenging. You want to give them all attention, but feel torn between competing demands. This struggle is completely understandable. With everything restarting at once, you're being pulled in multiple directions.
Remember - you don't have to do this alone. Think of yourself as the CEO of your household, empowered to delegate tasks and seek help where needed. Maybe a math mentor can support your student with homework, preserving your relationship.
Most importantly, have open conversations with each child about their hopes and worries this year. Whether it be on a sunset walk or on the drive to school, lead with curiosity and take the time to ask them how they're doing and how you can best support them. These discussions are crucial to understand their needs. You can even be explicit in asking "Would you like me to help with X class you're nervous about or someone else?" With that understanding, you can then create an action plan tailored to the support your child needs.
After laying this strong foundation, build out your support team. Outsource tasks where possible so you aren't carrying the full load. Lean on others to fill in gaps - your partner, a Curious Cardinals mentor, family, friends. You have an entire network behind you and if you are thoughtful and specific about where you need support, the better suited others are to step in accordingly.
Work together to find the right balance. With collaboration, care for each child, and outsourcing help where beneficial, you can navigate this season successfully. Your kids are lucky to have you spearheading their support.
---
Q: My child is entering an important grade year...How do I support them? How do I load up on academic help or enrichment accordingly?
A: Certain grades can feel pivotal - like the transition to middle school, Bar/Bat Mitzvah year, starting high school, or junior year with looming college apps. The stakes seem high, and as a parent, it's natural to feel overwhelmed.
Remember, you aren't alone in navigating these milestones. Lean on resources like mentors who've been there before. Or friends with kids in the grade ahead of your child. They can demystify the path ahead.
Also, lead with curiosity - ask your child openly about their hopes and worries for the upcoming year. Before jumping to assumptions, maybe your child feels more confident than ever or is nervous about something else that you didn't expect.
From there, be proactive in getting them support tailored to their needs - whether academic mentorship or help managing new social dynamics.
Each year builds on the last. With the right mix of support, guidance and encouragement of their interests, you can set them up for fulfillment now and success down the road.
The last thing I'd say is think about the big picture. Help them realize what this one year means in their holistic journey.
---
Q: How do I balance my children's sports, schools, and extracurriculars?!
A: Balancing school, sports, and activities can certainly feel overwhelming. Start by getting organized - create a shared calendar and system for tracking everything. Whether you choose Google calendar or a tangible calendar in the kitchen, this reduces the stress of constantly needing to ask "What's next?"
Then, critically look at the schedule - is it overloaded? Talk with your child about whether there are activities to scale back. Protecting some downtime is important too.
Also examine what's taking up time - is it homework struggles or too much phone scrolling? Being proactive can help - whether it's connecting with a mentor for study skills or setting healthy phone limits. The goal isn't to antagonize but to collaborate - explain you want to help them succeed at their commitments while also leaving space for fun and friends.
With some structure, prioritization, and communication, you can find the right cadence that works for your family. Your child will thrive when they have support systems to help balance the load. It may feel overwhelming but take it step by step - you've got this!
---
Q: Fear... What if my child gets a bad grade on the first test and then feels like they're playing catch up for the remainder of the year? How do I prevent that?
A: It's understandable to worry about your child getting a bad first test grade and feeling behind all year. The anticipation can be scary, especially in a tough class.
Rather than ignore these concerns, get ahead of potential issues proactively. Have an open conversation acknowledging their nerves, and then put supports in place - maybe doing a little test prep each night or getting a mentor for extra help in this subject. Even empower them to go speak to their teacher to introduce themselves, share that they're a little bit nervous and why, and ask their teacher for advice on how to succeed in this class.
Front-loading confidence and skills, instead of bottling up anxiety, can set them up for success. And even in a challenging class, things may go better than expected! But being proactive with extra practice and encouragement can help prevent that defeated feeling if grades start low.
With some planning and communication, you can tackle those first test jitters. And remember, one grade won't define the whole year - with some extra work, they can catch up quickly. You've got this!