How to get the most out of your academic mentorship for writing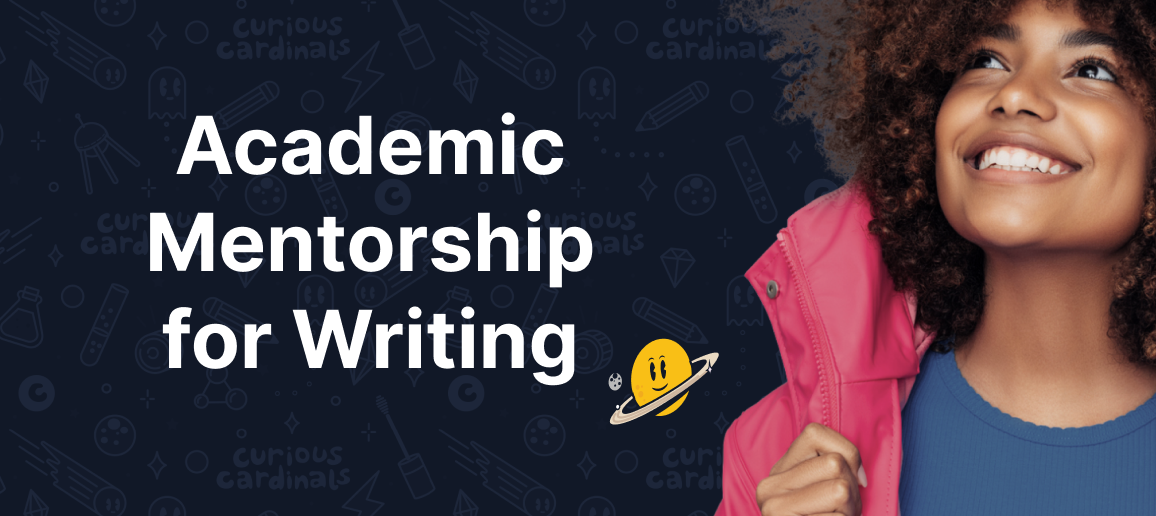 Curious Cardinals is built on the power of meaningful, trusting relationships, which take time and consistency to establish.
Do you want a quick fix? Have an essay due on Friday but you're only willing to call your mentor when there's an imminent deadline? Prepping for a summative test Tuesday but you've fallen behind throughout the entire semester? If so, we encourage you to go elsewhere.
When you work with a student to simply optimize for performance on Friday's test, you risk making band-aid solutions and neglecting the underlying problem.
Come to Curious Cardinals if you want to prepare your student to be their best self in life. We're here for the long haul. Not the short wins.
---

What does "writing support" mean? What does it look like? In high school, the most typical essay structure for history and English classes is the 5 paragraph analytical paper (intro, 3 body paragraphs, conclusion). Students might also have shorter-form writing assignments – like written responses to prompts or creative essays – and sometimes longer papers.
Writing support comes in a few stages:
Writing basics/fundamentals

Knowing the content

The writing process

Strong signposting & flow

Editing & iteration
---
1. Writing basics/fundamentals

Do you struggle with basic grammar? Find yourself writing in the passive tense instead of the active tense (or not knowing the difference)? Do you struggle to write complex sentences? If so, then you've got more foundational groundwork to do with your mentor.

It's okay if you're struggling with a few things. For example, my mentee struggles with comma usage, so it's a thing we consistently work on together. When we first started, she also struggled with writing in passive tense but we've worked on that – she's improved dramatically. These foundational components of writing simply require a bit of groundwork to cover.
---
2. Knowing the content
Oftentimes the problem is not so much the writing as the essence of the writing. A paragraph might not make much sense because the student doesn't actually know what point they're trying to convey. Maybe they don't fully understand the book they've read or its subtext, so they don't know how to properly analyze it. Perhaps they lost focus during history class and don't understand the key themes that tie together pivotal historical dates they are unpacking in their paper. If this is the case, a mentor can help a student understand the material itself, first before diving into the writing process.
---
3. The writing process
If you're assigned a 5 paragraph analytical paper, how do you approach it? Do you struggle with where to get started? Does the thesis come first or the evidence? How do you organize your thoughts? If this process is overwhelming or totally unknown to you, a mentor can help! We'll show you how to nail the writing process from ideas —> research —> thesis statement —> outline —> topic sentences —> writing —> editing —> final draft.
---
4. Strong signposting & flow
Once you have a cohesive understanding of what the prompt is and the ideas you want to convey, you need to organize your thoughts. Do you choose chronological order or organize your paper thematically instead? For some students, this comes intuitively. For others, they might struggle with how to string ideas together in a coherent way. Working with a mentor to organize your paper and make sure that each topic sentence serves as a blueprint for what you will cover in the paragraph itself is a critical skill to build.
---
5. Editing & iteration
The key to nailing the writing process is learning that it's a process! That means overcoming the urge to procrastinate and instead writing a final draft of your paper with ample time (even if it's one day!) to review, reread, and edit.
Students sometimes struggle to edit their own work. To help students learn this crucial skill, a mentor can peer-edit with the student live on a call, then help them implement these edits, not making the changes themselves but rather empowering the student to do so.
---

Parents and students have agency in helping mentors best set the engagements up for success.
Here are our tips:
1. Students, please send the materials with which you need help 24 hours in advance! That includes information about what you're covering, what the assignment is, and the due date.
For example:
We are learning about the Civil War in history class and the writing prompt for my essay is "….
We have been reading The Crucible in English class and my essay prompt is…. It's due…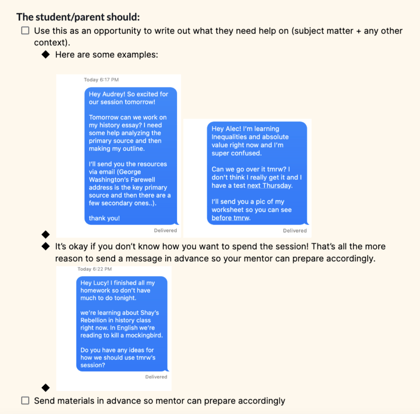 I was a history major at Stanford, but I can often use refreshers before teaching a topic to students. When my student notifies me in advance that she is covering Bacon's Rebellion or the French Revolution in addition to the prompt, this provides me with sufficient notice to do some of my own research and come to the session completely prepared to support my student.
When I know the due date as well, I am able to advise whether we need additional sessions to set her up for success. In other cases, this allows me to observe patterns such as procrastination and be proactive in asking her to tell me when her assignments have been announced, so we can also work on project management.
---
2. Parents, work with your mentor to establish the proper communication channels and expectations.
If your child's mentor observes that your child is procrastinating or needs more sessions to perform better on tests, do you want to hear that information or prefer to trust them to work directly with your child to establish a schedule?
Mentors write post-lesson notes. Do you want them to investigate anything in particular? Is there something that you might not have access to as a parent that they can flag (i.e. do you want them to report back if your child is experiencing overwhelming stress?)
---
3. Students, please take doing the work a mentor asks of you seriously, so when you come to sessions, you are prepared.
The work you do between sessions is crucial for optimizing the time you spend with your mentor! When mentors ask students to work on an essay, but a student comes to their next session having done no work in between, this makes it difficult to make progress.
---
4. Be honest with your mentor!
Is your child super stressed but unable to vocalize it to the mentor? That's helpful context for their mentor to know – then, the mentor can consider how to best support their mentee and mitigate that stress.
Is your child's grade their primary goal right now, so it's hard for them to buy into the skills building process? Tell the mentor so they know what they're dealing with and can brainstorm the best way to navigate this potential tension.
---
Above all, celebrate your own growth! Writing is a life-long skill, and mastering it takes time and dedication. Your mentor is here to support you however they can, and we can't wait to see how you improve over the course of your academic mentorship!